On May 24, 2018, Hebert Associates, Inc. had the distinction of being the official measurers of the world's tallest freestanding pyramid of toilet paper. The results are official. A new Guiness World Record has been set. The pyramid stands at 14′ 3 3/4″ breaking the previous record of 13′ 5″.
The building of the pyramid was a joint effort between Meijer and Kimberly-Clark Corp. and took place at Meijer's new Grand Chute Supercenter.
In order to get an accurate measurement to the top of the pyramid, it was necessary to find a reflector that could be affixed to the top roll that worked with our instrument. We found a peel and stick reflector paper made by Leica Geosystems that worked well with our instrument. After testing, I found it to be extremely accurate, just as accurate as the prisms we normally use for obtaining survey grade measurements.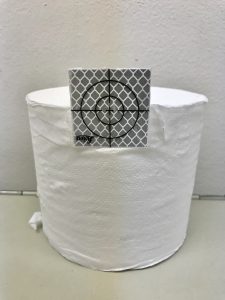 Some additional photos and a video showing the construction of the pyramid